Stereo Tool is available in a free and a registered version. The registered version is intended for commercial users of Stereo Tool.

| | | |
| --- | --- | --- |
| | FREE VERSION | REGISTERED |
| Declipper | trial ¹º | √ |
| PNR Noise & Hum | trial ¹ | √ |
| Delossifier | trial ¹ | √ |
| Natural Dynamics | trial ¹ | √ |
| Noise gate | √ | √ |
| FM hiss remover | √ | √ |
| Automatic Gain Control (AGC) | √ | √ |
| Phasing error (AZIMUTH) correction | √ | √ |
| Stereo enhancement | √ | √ |
| 2x 1-9-bands compressor/limiter | √ | √ |
| True Bass | √ | √ |
| Equalizer | √ | √ |
| Bass Boost | √ | √ |
| Lowpass and highpass filter | √ | √ |
| Final limiter | √ | √ |
| Extra loudness | trial ¹ | √ |
| FM pre-emphasis | trial ¹ | √ |
| FM stereo encoding | trial ¹ | √ |
| FM RDS encoding | trial ¹ | √ |
| FM BS-412 limiter | trial ¹ | √ |
| FM Stokkemask clipper | trial ¹ | √ |
| FM Composite clipper | trial ¹ | √ |
| FM Single-Sideband (SSB) stereo mode | trial ¹ | √ |
| FM transmitter audio synchronization | trial ¹ | √ |
| Change settings from ext. scripts | trial ¹ | √ |
| | | |
¹ If these features are enabled on the free (non-registered) version, a message ('This sound is processed by Stereo Tool') is played once every 12 hours - if both FM processing and Loudness are used every 4 hours. This should not interfere with most non-commercial usage.
º Beeps once a minute when not registered.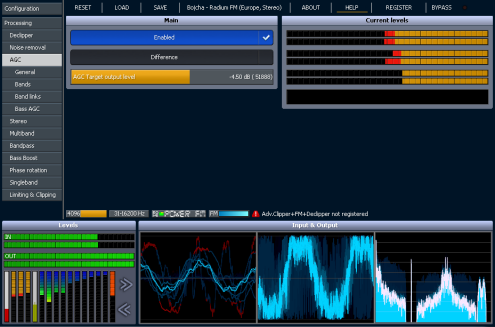 This was a real life-saver for me. I have two, four-disc collections of rock n roll from the 50s and 60s. It apparently was taken from vinyl, transfered to tape with significant phase issues, THEN burned to CD. I got them cheap... and I got what I paid for.

The mono cuts, I'm analizing the channels to find the better quality and using only that channel. The stereo cuts, though, are only fixable by putting them through Radio Tool. Sometimes a recording sounds OK... then I run it through Radio Tool and suddenly the lead singer is ROCK SOLID dead center of the image.

I never had a full appreciation for the program until I ran into this situation... seeing what I used it for might help others see its value.

Gene Savage, Tulsa, Oklahoma USA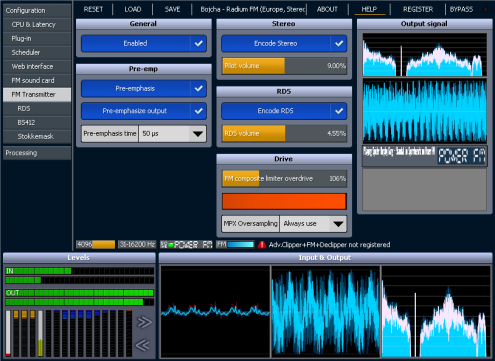 Ich hatte den Rechner eigentlich zu Testzwecken On-Air geschaltet und wollte ihn nach der Messung wieder herausnehmen. Das ging aber nicht, weil die "Rockies" inzwischen den neuen Sound auf der Antenne gehört hatten. Der Sound ist ganz anders als Orban, Omnia & Co.. Alles klingt entspannt ...und natürlich aber extrem druckvoll. Das Schlagzeug verschwindet nicht im Hintergrund und das macht Freude!!! Also sendet der Rechner weiter und ich darf ihn nicht mehr abschalten! Ein wichtiger Nebeneffekt war, dass sich die Reichweite des Senders erhöht hat!!! Das Stereo-Empfangsgebiet ist größer als bei dem bisher eingesetzten Orban 8400! Dein BS-412 Limiter ist also super!

Wolf Stahl, ROCKLAND (Germany)
ASIO is a trademark of Steinberg Media Technologies GmbH
What is Stereo Tool?

---
Stereo Tool is a professional low latency audio processor that is used by over 1000 FM stations, thousands of web radio stations and AM, HD and DAB+ stations all over the world, by musicians who use it to process their recordings, and by hundreds of thousands of people who use the free version¹ to listen to music on their PC.

Stereo Tool makes your music sound more consistent, powerful, clear and detailed than ever before - regardless of whether you play it through low end or high end equipment.

Stereo Tool can make recordings sound equal and consistent in volume and sound color, bring out the details, and increase existing stereo effects. It can repair 'broken' stereo images which often occur on cassette tapes, vinyl and cheap CD's, which normally causes havoc when playing it on a mono system, headphones or a system which includes a stereo widener.

Special support (not free) is included for radio stations: Much louder output levels, FM pre-emphasis, stereo coding and RDS coding for FM stations, and protection of highs against distortion caused by lossy compression for web radio stations. The processing latency can be reduced as low as 12 ms, at the cost of reduced fidelity. At the maximum quality the processing latency is 93 ms.

Audio processing features

---
Currently, Stereo Tool offers the following sound processing options:
Declipper
A unique filter only found in one other processor. It finds and restores clipping (distortion caused by too loud input levels) which is present in most music from the last two decades. See the Perfect Declipper site for more info.


Constant tone remover
Removes constant tones such as a 50/60 Hz hum on the fly.


Hiss removal filter
Stereo Tool contains a powerful hiss reduction filter that has almost no effect on the rest of the sound. Especially useful when playing older songs or when a lot of volume compression is used.


FM hiss removal filter
This is useful when the input signal comes from an FM transmitter, for example when re-broadcasting the sound from an FM station.


Automatic Gain Control (AGC)
This AGC keeps all the sounds below a defined level. Different from many traditional processors, the AGC in Stereo Tool is not peak level based but acts on how loud something sounds to human hearing.


2-9-band multiband compressor / limiter
If one song contains a lot of bass, and the next contains a lot of treble, this filter can make them sound equal. Older or bad quality recordings can be made to sound closer to the sound of modern CD's, which generally sounds much better on a wide range of playback equipment.


Phasing error (AZIMUTH) correction filter.
Old tape recordings and many cheap CDs often suffer from severe phasing errors. These phasing errors can make listening very unpleasant, and when the phasing error changes over time the sound can seem to "float" around you. It can also cause severe artifacts when converting the sound to mono or when playing it on a surround system. This filter automatically detects and repairs such errors. For FM transmissions this can reduce multipath distortion.


Stereo booster
This filter increases the existing stereo sound, unless it was already very loud, which makes the sound much fuller. It can be configured to not alter the total sound content.


Stereo to mono conversion
Converts stereo to mono without removing sounds that normally cancel out each other. So the mono sound still sounds just as full and powerful as the original stereo sound.


Bass booster
This filter increases the bass level without increasing the maximum amplitude of the bass.


Final limiter
The Stereo Tool Final Limiter can transparantly remove short spikes in the signal - so with nearly no effect on the sound.


Distortion masking Loudness filter
This filter can make sounds up to 12 dB louder, without causing higher amplitude peaks in the signal, with little effect on the sound. Especially useful for radio stations that want to sound loud.


Lowpass filter
The extremely steep phase linear lowpass filter can be used to cut off frequencies that cannot be broadcast (streaming audio, FM transmitter, AM transmitter).


FM transmitter features

---
Stereo Tool can generate an MPX signal, including stereo and RDS data, which can be sent to the FM transmitter using a good quality 192 kHz capable sound card. No separate hardware stereo coder or hardware RDS encoder is needed.

The following FM transmitter specific options are provided:

FM pre-emphasis filter
Pre-emphasizes the sound, which is needed for FM transmissions. All the audio processing steps will take the pre-emphasis into account, meaning that pre-emphasizing does not cause spikes in the signal, if the Final limter or Loudness is used.

Stereo Tool can output both the pre-emphasized and the de-emphasized sound.


FM stereo encoder
The software FM stereo encoder generates a high quality MPX signal including stereo information, which can be fed directly into a (mono) FM transmitter.


FM RDS encoder
The software RDS encoder enables broadcasting RDS texts without using a separate hardware RDS encoder.


Composite limiter
A composite limiter is available in Stereo Tool to squeeze out the last 0.5 dB of extra loudness with no effect on the quality. The stereo pilot tone and RDS signal are NOT affected by this filter, so the MPX signal that comes out complies perfectly to the standards.

ITU-R.BS-412 limiter
Mandatory for several European countries. The BS412 limiter in Stereo Tool has nearly no effect on the sound (no extra clipping, no pumping, no gain riding), but still keeps the output level extremely close to the allowed maximum.

ITU-R SM.1268 (Stokkemask) clipper
Mandatory for the Netherlands. Reduces extreme stereo separation, and can therefore also be used to reduce multipath distortion.


¹ Although most options of Stereo Tool are free, some options that enable FM radio stations to sound louder than their competitors, as well as some options that enable broadcasting in stereo and adding RDS texts to the broadcast without using extra hardware are limited in the free version of Stereo Tool.